Esama at 83:

Be grateful to God, don't take more than you can control
TODAY, Chief Gabriel Osawaru Igbinedion, the Esama of Benin Kingdom, clocked 83 years of age. Tony Osauzo, who was at the parley reports that Igbinedion supports the idea of restructuring the country, saying that it was long overdue. He, however, observed that the publicity for restructuring was wrong.A business magnate whose business interests cut across many sectors of the Nigerian economy, Chief Igbinedion, as part of activities to mark his birthday, spoke about his life and on contemporary issues during an interview session with journalists in Benin.
On state police, the Esama of Benin, who effectively deployed parables in answering questions, vehemently objected to the idea of state police.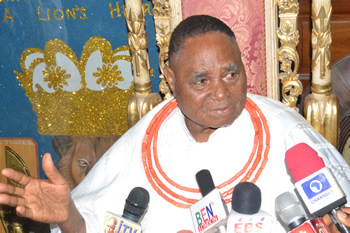 Sir, congratulations on your 83rd birthday. How do you feel at 83?
First and foremost, you know me; I go straight to the point. I do not believe in history. I respect history but I go straight to the point. The history is past. So, to your question, I owed it to God Almighty, my happiness, my pleasure. God is great, I thank God for my life.
As a follow up to that, Sir, I know as you rightly said, God is the one that gives life but those who are 80 and above also have some secrets to share with the younger ones. Can you tell us, sir, how you achieved this?
I will tell you. Long life is in your palm. Your first priority is your stomach, what you take through your mouth to your stomach. While I still thank God, all of you, 30 years, 40 years, you know me. You have never heard or seen that Igbinedion went to the bar and start drinking. I inculcated it in my children.
The day I find my children drinking in the bar or get drunk, I still have to caution them. Drink is good, the doctor will even recommend you brandy or other wine to take but not to get drunk. What happened to Israelites? According to them, they went to synagogue and got themselves drunk.
Dryness of it is not good either. Everything is moderation. Do not let your mind be above, control your life. Before you say anything out think twice, rehearse it within yourself. There is long life if you have rest of mind. First of all, ask for rest of mind. Do not do anything that will make your blood pressure to be high or athritis to come. Watch your food. Thank God for everything and do not take more than what you can control.
I will conveniently say that you are one Nigerian that has seen it all in all aspects of life. What do you have to tell us about Nigeria as a country from Independence up till now. Do you think we are actually on the right course?
I do not want to delve into politics. Anyone that was born before 1960 is senior to Nigeria. In the 40s, we were being colonised by the British. Come 1960, I was in Ogbomosho as a police officer. I had my Opel Record WER 243; look at the car there, blue. We struggled for the Independence. I was an orderly to Awolowo's wife. I was given to Awolowo but his wife snatched me. Shonekan became the deputy governor of Central Bank.
Nigeria, if you travel outside, Nigeria has done well. Man is never satisfied. The only thing I will like to say is that I wish we had gotten somebody who does not ask for wealth of life as a leader like Awolowo, who wore Agbada. You know Agbada, there is another one under it. If you wear Agbada, it is for the country, the other one you wear inside is for the state. This your trousers, whatever is left for you is enough for you and your family to take care of yourself.
I thank God for Nigeria today, but I am praying that God will deliver this country. He will bring a man, who has the fear of God. How can we, from 1960 be looking for one thing – light, we cannot get it? I will not like to delve into politics, please. If I have to talk about it, it is so deep but everything, I have eyes open, I have my connection and I have people.
As a young police officer sir, definitely, the way you operated then is different from now. How will you compare that era to now and what do you think should be done to make Nigeria police more professional?
I will not comment. It is too sensitive.
We are talking about restructuring. And when we talk about restructuring, our leaders think it is secession or maybe dividing Nigeria. So sir, in your own opinion, what do you think about restructuring of this country?
Sir, restructuring is to amend the wrong. My late daughter, Dora Akunyili, started this thing in my sitting room in Abuja. I gave her that idea. It was my own. When I was speaking, she bought it. If you are dealing with people, leaders who rule the country, they know better than we, maybe the publicity of restructuring is wrong. It is a very good idea. Restructuring Nigeria is overdue. Like the constitution, it is also stale. They need some changes. That is what the people are yearning for but whether the people are interpreting it wrongly I do not know.
First of all, they have to condition Nigerians to love their country. If you see an American man, he will tell you that I am an American. Like the way the Americans inculcated America into their people's minds. If he is a British, he will say I am a Briton. Until Nigerians accept that they are Nigerians, all these we are saying, is a waste of time. The government has not really sat down to npoint where the error is. I hope one day we will see people who will truly demonstrate such a great love and be proud of his country, Nigeria. We have lost so many brains like Bola Ige.
Sir, as a great philanthropist that you are and as a father to many, what is that drive that makes you want to help people?
From my youth, that is how God created me. I will not like to see people suffer. I can even go and borrow for you if your need is genuine. I do not like to see people suffer. When they are in genuine need, it is my duty to do it.
Beyond being a philanthropist, we have known you for so many years as an entrepreneur. Could you tell us what you think about the business climate in Nigeria as at today?
Take my airline as example, there are some people who do not want some people to progress.The business today, when the naira was being devalued, I was lucky enough to stay with one white person in the plane. He called me and said he wanted our naira at $1 to N60. It was N5 then. I never believed it, N60 to $1? He said they had taken decision. But today, we are no more talking of N60 but $1 to N500!
There is still lot of slavery but no more charcoal. They come through visa, we are being controlled, the currency we earn, somebody is determining how much it would be. It is like you are selling pineapple and I go to say this pineapple, I am going to pay N1, that is what it is. Only Mugabe rose up to say his country would use dollar as their currency.
May we know those things that your parents told you when you were growing up that shaped your life to become the success are today?
Well, I thank God if you have accepted me as one of the successful persons. The only thing that I can tell you is that all the people that we started with, I am still there today by the special grace of God. When I was being given an honorary degree, the Master of Ceremony said that there was nobody that God does not speak to. It depends on if you are listening at the time God is speaking to you. I hear God's voice. I win some, I lose some. I did not pass in all but no one in this country has taken the risk I have taken.
When I was growing up, I was working for Leventis. One Christmas time, I was in the motor section. I was driving past Sapele Road, I saw a Greek, Socrates asked a gateman to mix red mud into a bucket and started sprinkling it on people there for their Christmas because they were scrambling to buy soft drinks from him for Christmas.
I grew annoyed and I went to him, I dealt with him and I said I would compete with you. On the 3rd of January, I left for Shasha to go and bring Canada Dry and I put it opposite them. That was how I laid my life for Nigeria. So, I do not like suffering people, I have tried my best.
What will be your advice for Nigerians and now that the country is facing recession, what must Nigerians do to overcome the recession?
My dear son, you can talk to listening ears and I pray, I have put my words enough. I want people to listen and when the time comes for those who have listening ears to hear, they would do the right thing. The government of the day is trying. I will not condemn any government. I pray that the Lord should answer our prayers.
You were a former police officer. People have always talked about the creation of state police. What is your take on that?
I vehemently object to state police. We that saw state police will not pray for it to come to this country. Do you know what it took us to uproot state police? Do you know how the politicians used them to their advantage? Please, write with your ten hands against it. The politicians, they think they are there today but they do not know that they will not be there tomorrow. Anybody that agitates for state police does not love this country. What native police did to this country in the 50s, 60s even in your life, you will not want them to come up again.
As man who has achieved a lot in his youthful years and the youth of nowadays have been tagged to be lazy, what is your message to the youth?
I am sorry for the youth. It is upbringing.
Could you share some of your experiences, growing up with us?
Thank you. Let me correct one impression here, yes, there is no child who did not suffer but I did not suffer. My father died when I was nine years old. At that time, I inherited a house in the village, I inherited six cocoa plantations. My mother was a big trader, selling fish. I will not say it was not rough but I survived it.
How did you survive it?
In this town, I sold kerosene seven pence for more than three years when I was a houseboy and I went to fetch firewood five times in a week. I could remember one day, one of the sons, who was about eight years would defecate in the sitting room while I was asleep and the mother would call on me to go and clean it up. All these were what God wanted me to pass through in life to be able to get to where I am now but God has saved me countless times. I have been through a lot but God saw me through.
When you were talking earlier, you talked about conditioning Nigerians to believe in their country just like the way the Americans do. At this time that there is tension everywhere, people are agitating for restructuring while others are calling for secession, what do you think can be done to bring about that kind of belief in Nigeria?
As I told you, I do not want to comment on the issues of Nigeria. I live my life the way it is.
You have achieved a lot and what else would you be asking God for?
I am consolidating. When I had my university, I told my God that I wanted to be consolidating. I am consolidating what I have so that it can stay there.